Advanced Air System
Universal Packaging offers packaging and shipping supplies and services to warehouses. Our IncrediSeal™ brand of pressure sensitive tapes was established to solve packaging issues that our customers kept asking us to solve.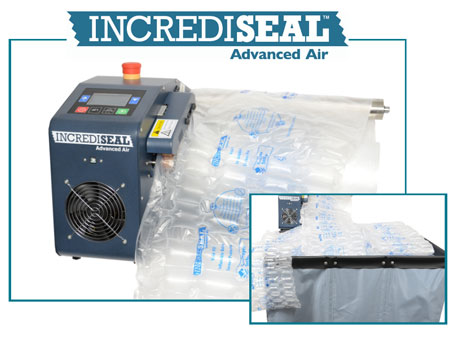 The Incrediseal AF380 Advanced Air System is fast, light weight, cost saving packing and protection.
Versatile system produces multiple dunnage types to meet all your void fill and protection needs.

Compact 16" L x 24" W x 14" H footprint creates an efficient, organized work-space.

Variable speed and pressure controls adapt to your workflow & packing requirements..</li>

Max. sealing speed: 90 ft. / minute.
3 Types of Air Pillows Available:
Bubble Film
ISEAL-LIB1215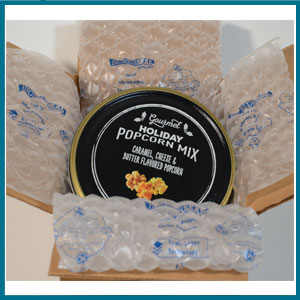 Protection &
Wrapping
Create 15' wide protective bubble film protection for fragile products. Perforated every 12.5"
• Available Width: 12"
• Available Lengths: 2300'
• Colors: Clear
Large Pillow Film
ISEAL-IPP122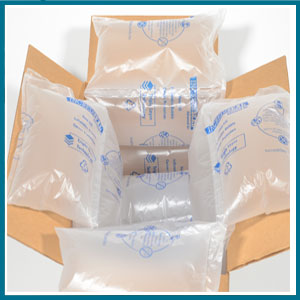 Dunnage &
Void Fill
Use for 12" x 4" pillows. Perfect for large void fill. Great protection and cushioning for heavy items. Perforated every 4"..
• Available Width: 15.75"
• Available Lengths: 1500'
• Colors: Clear
Hybrid Film
ISEAL-HIP1215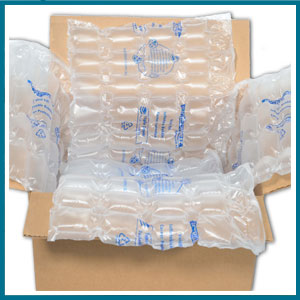 Corners &
Bracing
Create 15" wide sheet of 2" side by side pillows. Excellent for bracing corners and preventing shifting. Perforated every 10".
• Available Width: 15.75"
• Available Lengths: 1500'
• Colors: Clear