Converting Capabilities
Incrediseal now offers custom and stock die cutting on a variety of substrates in finished rolls or sheets. We have the ability to laminate up to three substrates, and die cut up to a 17" x 17" finished product.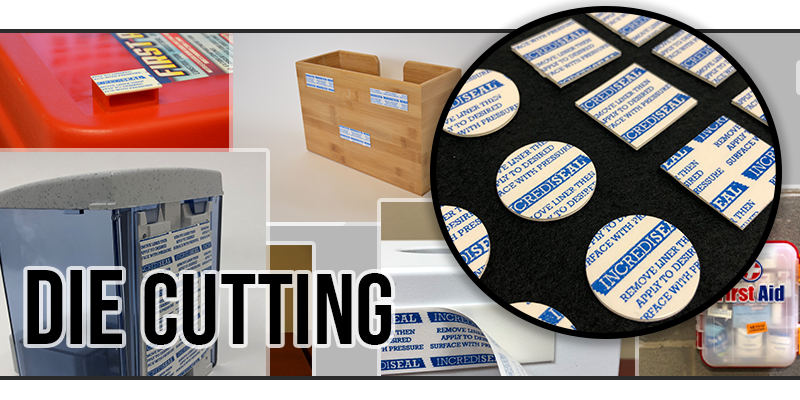 General Purpose Double Sided PSA Foam
Peel and stick, this finished product is available in rolls or sheets. Utilizing IncrediSeal's high tack solvent based acrylic adhesive ensures these pads bond to a huge variety of surfaces; from rough surfaces such as concrete to smooth plastics and powder coated material. Perfect for assembling point of purchase displays and signage for retail. This product can be custom die cut in 1/32", 1/16", 1/8" and ¼" thicknesses.
Point of Purchase & retail displays

Temporary and permanent displays

Office products

Signage
Stock Size Tooling (Die Cut)
1" x 1"

1" x 3"

1" Diameter Circles
Anti-slip Foam is a non-skid foam that is laminated to one of Incrediseal's high tack adhesives (PET, Tissue, Filament reinforced). This anti-skid foam is available in 3/16" thickness and can be attached to a wide variety of surfaces to create non-skid feet that keep displays, appliances, and office products locked in place. Custom die cut sizing up to 17" x 17" and can also be custom slit to narrow 3/8" wide strips.