Plastic Strapping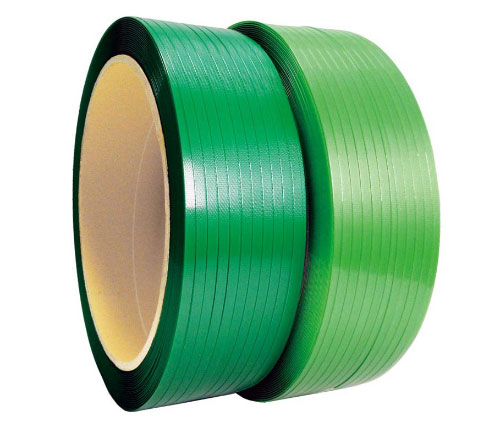 Polyester strapping most closely resembles steel strapping in its physical characteristics. Polyester strapping withstands higher tension than other plastic strapping (up to 25% higher), with equivalent break strengths. It will retain tension on rigid loads better than other non-metallic strapping. The minimal elongation properties of polyester strapping further ensure tight straps on setting loads during handling so loads are more stable. If tensioned within the proper limits, it will elongate only 1% to 3%, and after tension is relieved, it will recover up to 99% of its initial size. Universal's polyester strapping is virtually unaffected by weather or ultraviolet rays. It is significantly lower in cost than steel strapping.
Universal's brand of high quality polypropylene strapping is made in a choice of job-matched widths, thickness and tensile strengths. Our strapping has been proven to be an effective alternative to steel or nylon strapping at a fraction of the cost. In addition to being economical, plastic strapping has the advantage in its ability to contain shrinking and setting loads, or grow with expanding loads. With your choice of closure method and application system, you get the kind of strapping efficiency that improves performance, saves job time and measurably cuts labor costs.
Why may Polypropylene Strapping be a better solution than Polyester or Steel?